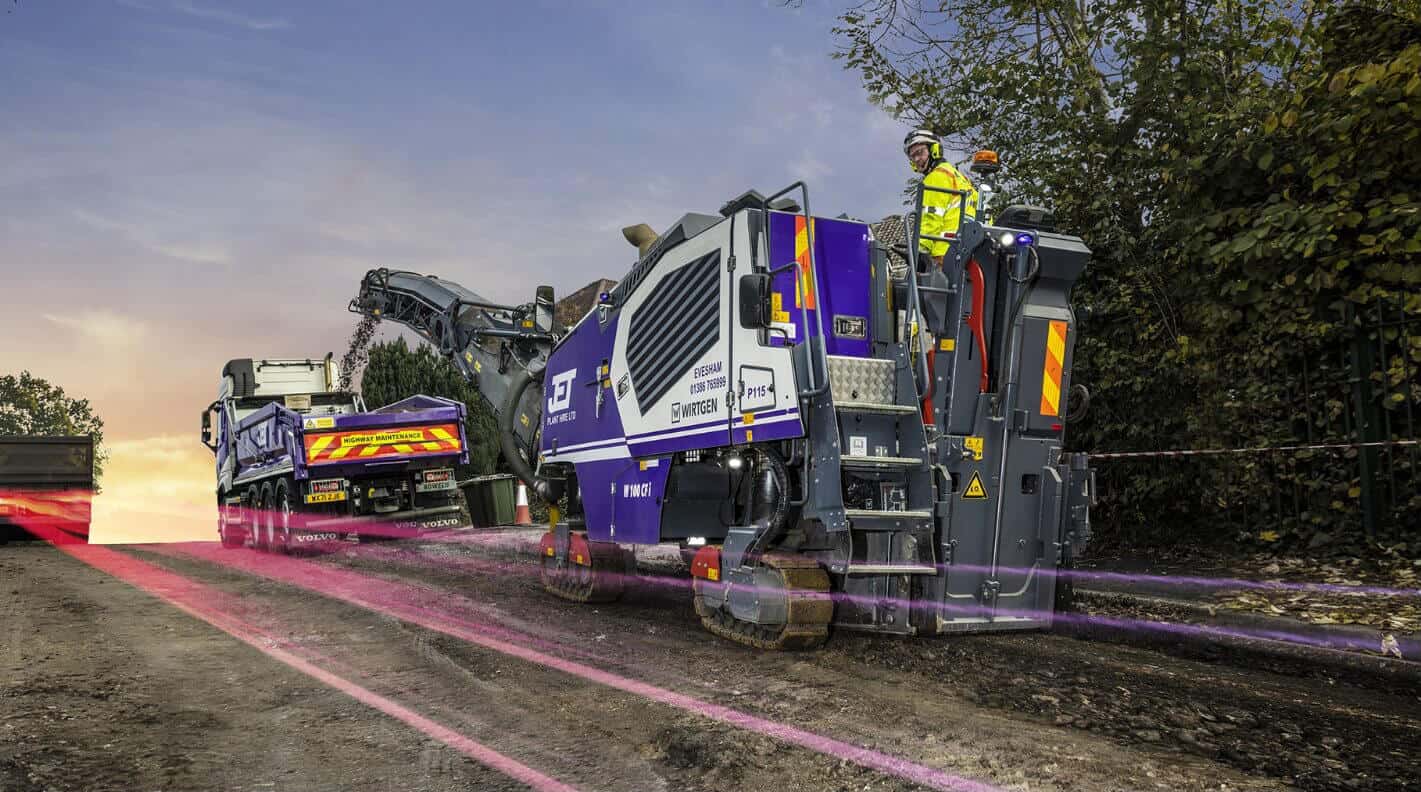 A definite advantage in city traffic and at critical points. The front tracks of the 1000mm tracked machine have a large steering angle and can be lifted and lowered hydraulically. The rear right track may be swung in front of the milling drum hydraulically from the operator's platform. This allows for milling flush to kerbs even with tight radii and ensures that the operator has everything under control from the operator's platform.
The operator's platform is arranged across the entire rear width of the vehicle so that the operator can always see the right-hand side of the machine when seated and the left-hand side when standing. All control elements may also be operated with ease while seated.
The LEVEL PRO system combines all functions for the left and right machine sides and displays them on the operator's control panel. The display is ideally positioned in the operator's range of vision and can be operated with one finger.
The enlarged material outlet, wider primary conveyor and the automatic belt speed control ensure that the milled material is removed as quickly and smoothly as possible.
The W100 CFi is designed for versatile and productive working. Ideally arranged tool holders and edge segments ensure a powerful milling performance with neat edges and quiet operation. The machine can be equipped with the Flexible Cutter System (FCS) to allow the swift exchange of milling drums. Conversion is thus a simple process and saves a lot of time too.
1M Tracked Planer Key Specs
Milling Depth:

0 - 330 mm
Operating Weight:

19,000 kg
Milling Drum Drive:

Mechanical
Number of Tracks:

4 Crawler Tracks
Travel Drive System:

Hydraulic/all-crawlers
Request Info
Unsure of which machine to hire? Leave some project details and our expert team will support in finding your Jet Plant solution.
Quick Quote
Want to understand more about your project costs? Get an instant approximation with our Jet Plant Quick Quote.