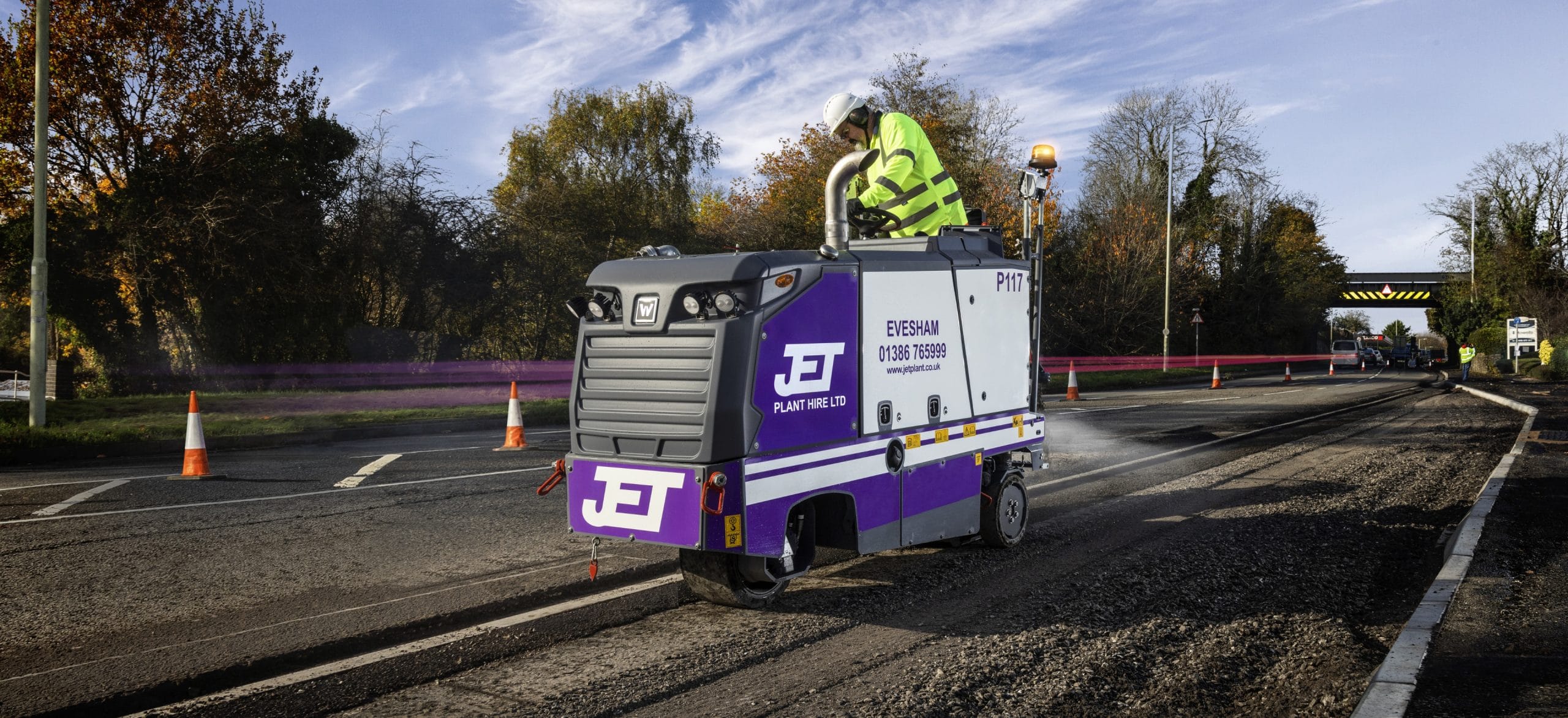 Our Process
With over 30 years in the road planing industry, Jet Plant is one of the UK's leading road planing contractors. Through the combination of expert project support, experienced operatives, and the latest road planing technology, Jet Plant will always find the most efficient solution for your planing project, whatever the scope.
The extensive fleet of over 30 Wirtgen planers and ancillary equipment ensures we always offer the complete solution for any application or site on a spot hire or contract basis, and can deploy right across the UK.
Our process rigour will always be underpinned by our commitment to reliable and professional customer service. End to end support from our Planing Operations Team will ensure we get to fully understand the complexities of each individual project.

General Hire
Successful project planning requires all the different elements coming together at the right time. With our fully manned, high performance road planers on your site, it means one less thing to worry about.
Our skilled, knowledgeable, and experienced team excel in delivering to your precise requirements, ensuring complete customer confidence that a project will be completed to a premium standard.
Precise execution, plus all the information you'll need, when you need it
Our fully manned high-performance range of state-of-the-art road planers are operated by a team of experts who excel in delivering a precise job that is right for you, when you need it.
Service above all else
We're continuously training our road planing team, and ensure our project team are only satisfied when you're happy with a job enough to recommend us to others. Our service promise is we will go above and beyond to bring the best ideas and execution for your project.
You won't have to worry about the planning
Our highly organised team make sure all the right elements come together when you need it, in the way you need, and give you the confidence with your developer that you are delivering a premium product at the end of your project. Then it's our job to ensure all waste materials are disposed of efficiently and environmentally, leaving you with a quality final product – nothing else.

Large Contracts
We'll work alongside you to collaborate on the most effective process to complete your programme. Supported by a highly experienced operational team we can deliver an enhanced road planing service tailored to you.
Top of the range machines to suit all job types, no matter the scale
With state-of-the-art telematics, next generation Wirtgen planers, and the most experienced operational teams, you can deliver large contracts with unrivalled quality. Working by your side, we will help you deliver an enhanced service, high uptime, and a process management system with environmental and sustainability considerations at its heart.
On top of our own standards, so you don't have to be
We have well developed carbon reduction strategies to help towards yours and your clients sustainability targets, as well as learning and development practices to ensure our teams deliver for you in a responsible accountable way. Meeting all the requirements of regulation and your customers' expectations for a professional business approach.
Delivering quality and assurance - it's what we do
Be safe in the knowledge that your road planing project is in secure hands. Backed by our extensive experience, every element of your job is considered and managed in absolute detail. From risk assessment to job specification, to wider project management support, and analysis of budget optimisation and cost control.

Public Sector
Committed to effective efficient project delivery we have invested significantly to ensure our projects are proactively managed to cost, time and quality. Stakeholders and budget owners alike will recognise how effectively the project has been managed.
Planing quality across any scope of project, guaranteed
We have a broad range of planers and support equipment available nationally with a fully resourced, highly trained team ready to deploy to the full range of projects from major infrastructure to smaller repair. We have a continuous learning and improvement management system to enhance everything we do in line with customer needs.
Supporting you by prioritising our own best practices
With full industry accreditation recognising our environmental, sustainability and quality management; best practice and accountability is part of everything we do, from major infrastructure to smaller repair. We have invested significantly in our processes to manage sustainability, cost, time and quality to the benefit of our public sector clients giving your stakeholders peace of mind over budget and efficient project delivery.
Our project teams commit to service clarity, and absolute reliability
With each and every project, we deploy a dedicated and specialist team of experts in process and program management. We have a range of key accreditations and adhere to best practice and accountability in everything we do.