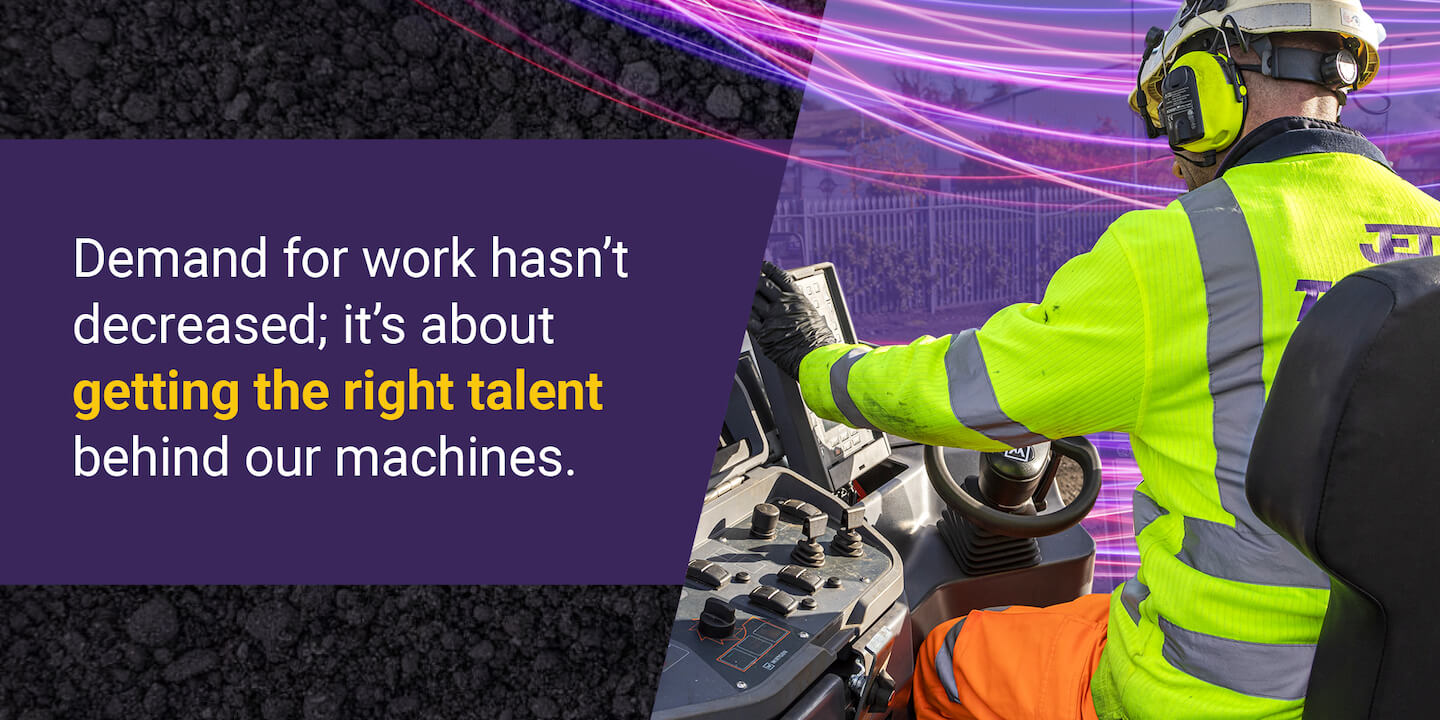 It's time to plug the gap…
It's common knowledge that our industry, like many others in the construction world, is suffering from a skills shortage. Demand for work hasn't decreased, but getting the right talent operating our machines is getting harder.
If this wasn't a challenge enough, within the next ten years over one million construction workers are expected to retire, so now we're faced with an ageing workforce and the loss of labour following Brexit (which is an entirely different conversation best saved for another day!)
When I started work, it was often the farming industry where most people headed, especially as I lived in a rural area. It was bloody hard work, and often people jumped into the construction as it was seen as the easier and better paid option – it was seen as an escape!
Advancements in technology led to a shift, and farms didn't need the numbers of people they once did. Construction then became the go-to occupation. It became one of those industries that a lot of people loved. But things haven't progressed, and a lot of younger people no longer see it as an appealing career option, for various reasons.
In a lot of industries, apprenticeships can be a solution to attracting the next generation of workers. But this has proven tricky in the planing industry. Most apprentices enter the field around 17, but you cannot go onto a site until you are aged 18. To do that, they also need to have the proper qualifications, which are impossible to gain within that time.
There are further obstacles in physically getting a trainee on site. There's little capacity within the teams, and a customer doesn't see any immediate benefit.
I think for the industry to effectively tackle the issue at hand and plug the gap, it's going to take reform. The industry needs to become more professional, offering proper qualifications and opportunities. It needs to be culture-driven for the workers we want to bring in and to be driven. This will need to be by both employers and customers to create an environment where young people can flourish.
The real issue for us isn't the number of people looking for work, it's making our industry seem more desirable and changing the perception people have of the construction industry.
When the younger generation is faced with roles in tech and digital, it's hard to make a job in an industry that is seen as labour-intensive an attractive choice.
Jet Plant retains employees better than most: our average service length is 8.6 years, which is brilliant for the industry, and excellent in general.
This is largely down to our culture. We're a family business that looks after our people well. We've had people join us that couldn't believe the shift in professionalism and friendliness from previous employers.
For us, upskilling our staff has been one of the leading factors in retaining and attracting talent. We know that bringing in fresh faces is important, but that shouldn't come at the cost of overlooking our other employees.
We have clear training plans to bring people into the industry with no experience or qualifications. We can offer NVQs at level 2, so we can work with them from day dot. We employ them first as banksman – get them qualified to be on site. Here, they can see the equipment in action, and see a live site up close. Every now and then, during downtime, they will get a chance to hop on machines to get a feel of how things operate.
They will be banksman for nine months.  After this, they go to the next stage of operating a smaller planer (350) under the supervision of another operator. This lasts for three months.
Stage 3 is operating the smaller planer – however, they only work on select jobs with support and guidance from the team. Then gradual progression to stage 4 which is a fully trained and competent road planer operator.
From here we offer progression plans to help them progress to become where they want to be from supervisors and foremen through to managers.
We have several examples of this here at Jet Plant that have been down this exact path themselves and are still here with us today.
What it all boils down to is that investment in people. Seeing a clear path for progression and commitment from companies to the advancement of their staff, new and old, this is what will incentivise more people to join the sector.
It is up to individual companies to offer traineeships and progression opportunities to help tackle the shortage, something we're already getting ahead of the curve with.
Click here to read all of our insight blogs up to this point.
Request Info
Unsure of which machine to hire? Leave some project details and our expert team will support in finding your Jet Plant solution.
Quick Quote
Want to understand more about your project costs? Get an instant approximation with our Jet Plant Quick Quote.