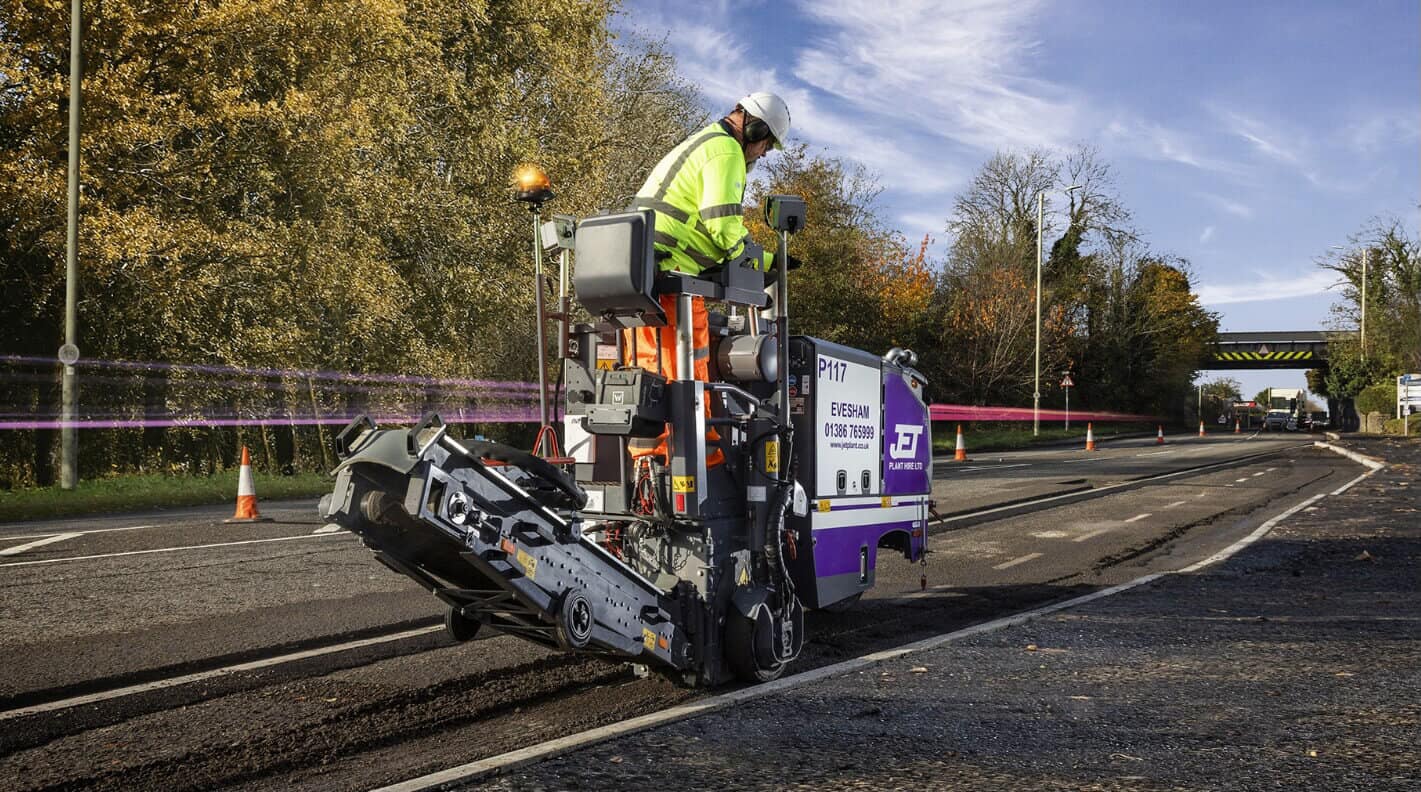 Milling areas for partial rehabilitation of footpaths and pavements
Trimming up, including milling round metal covers and other items of street furniture
Milling tie-ins
Removal of anti-skid and waterproofing by fine milling
The drum is off-set to the right-hand side of the machine and works in an up-milling direction. Total width of planer is 1.2m and only 1m with the leg folded in, the compact size and weight of the machine allows it to also work on footpaths.
The W35 Ri is fitted with a short conveyor to allow for higher outputs and save on manual handling of the milled material. Material can be deposited into a following machine with bucket.
It is equipped with all-wheel drive on three rubber radial tyres, allowing this model to go where other small machines in its class may not be able to work safely.
A variety of milling drums for different applications of work are available – 100mm and 200mm wide drums and the fine milling drum. The drums can be interchanged on site quickly and easily to allow for different applications or finishes on the same visit.
The operator's stand is located at the rear of the machine, so the operator has a free view of the milling edge and ahead at the working area to ensure an accurate cut. The operator has complete visibility over the entire machine. Hydraulic milling depth adjustment with responsive controls ensure a high-quality milling result is achieved every time.
The single front wheel allows a very tight turning circle and maximum manoeuvrability which proves to be invaluable on site for speed of operation and to maximise output. Speedy operation and convenient size for transportation means it can be moved to several sites in one day, ensuring an economical solution for customers. Worn cutting picks are safely accessed and can be quickly replaced.
350MM Planer Key Specs
Optional Widths:

100 mm & 200 mm
Milling Depth:

0 - 100 mm
Number of Wheels:

3 Solid Rubber Radials
Operating Weight:

4,650 kg
Milling Drum Drive:

Mechanical
Travel Drive System:

Hydraulic/all wheel
Request Info
Unsure of which machine to hire? Leave some project details and our expert team will support in finding your Jet Plant solution.
Quick Quote
Want to understand more about your project costs? Get an instant approximation with our Jet Plant Quick Quote.